FLAVORS FOR FUNDRAISING DIP MIXES AND WHOLESALE DIP MIXES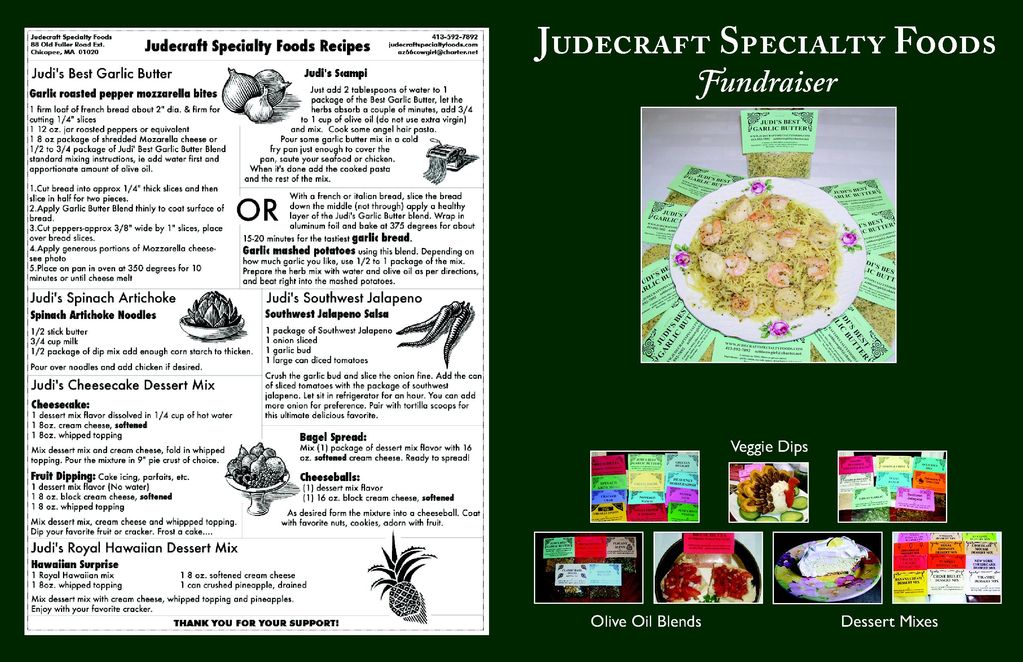 We can upon request download a typical order form for you.
The flavors offered are as follows: Please note that if interested we will provide a detailed package of information on our products and how they are made as well as ingredients. The veggie dip mixes all make two cups of dip. Primarily they require sour cream and/or mayo. The cheesecake dessert mixes require 8 oz. cream cheese and 8 oz. of whipped topping. Fold together and fill a 9" graham craker pie shell. The olive oil blends require water to soften along with the addition of olive oil for bread dipping and/or cooking. See our website www.judecraftspecialtyfoods.com for more recipes and information.
VEGGIE DIP MIXES
Bacon Onion
Beer Cheese
Blue Buffalo
Cheesy Bacon
Cucumber
Delicious Dill
Great Garlic
Habanero&Green Chile-Spicy
Pepper Jack-Hot
Southwest Jalapeno-Spicy
Heavenly Horseradish
Judi 's Best Veggie
Loaded Potato
Onion & Chive
Taco Seasoning and dip mix
Chili- spicy
Bacon Horseradish
Zesty Parmesan
Sweet Pepper&Tomato
Sundried Tomato & Bacon
Texas Ranch
Vidalia Onion
DESSERT MIXES
Sea Salt Caramel-NEW
Caramel Apple
Peppermint Parfait-NEW
Chocolate Mousse
Creamsicle
Key Lime
New York Cheesecake
Pumpkin Pie
Royal Hawaiian
Cinnabun
White Chocolate Raspberry
OLIVE OIL BLENDS
Bruschetta
Tuscany
Classic Basil Pesto
Judi's Best Garlic Butter